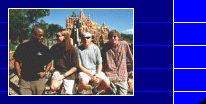 08.04.01
This site is currently being redesigned. As such, until the new revamped site is uploaded, the information contained within the site may become incorrect or outdated. The new site is still scheduled for a late August date, which was supposed to coincide with the release of Darius Rucker's solo album.

Some key events in the Hootie household include:
Darius is currently looking for a new record label to support his already recorded solo R&B debut. Once his association with a label is publicly announced, D's official site, dariusrucker.com should be up.
The band is starting to work on their 5th album with Atlantic Records, their 4th studio release featuring original material. Hootie & the Blowfish is looking at a 2002 release.
Darius was a celebrity player in a Top Of The Charts edition of Who Wants To Be A Millionaire. He was the first player to make it to the hot seat and earned $32,000 for his charity, the Hootie & the Blowfish Foundation.
Please be patient while the site is being designed. Thank you for your continued support.

05.02.01
After 12 years, Hootie & the Blowfish manager Rusty Harmon, has decided to resign. Neither Harmon nor the band have commented on the circumstances surrounding the resignation. A more in-depth article, Hootie's manager quits after 12 years with band can be found on the Articles page.

12.20.00
Hootie & the Blowfish appear on the benefit album, Stop Handgun Violence, Volume One. The band has contributed their rendition of the Bill Withers classic, Lovely Day, to the album. The album is available now at CDnow.

09.18.00
Pre-order your copy of Scattered, Smothered and Covered at CDnow today! The album is set to hit music store shelves on the 24th of October.

09.13.00
Venues, times and locations have been announced for the band's upcoming club tour. Here goes...

October
16 The Joint/Hard Rock Hotel, Las Vegas NV
23 The Boathouse, Norfolk VA
24 Irving Plaza, New York NY
25 Avalon Ballroom, Boston MA
27 Tradewinds, Sea Bright NJ
29 9:30 Club, Washington DC
30 Theater of the Living Arts, Philadelphia PA

November
1 Egyptian Room, Indianapolis IN
2 House of Blues, Chicago IL
3 Jillian's, Louisville KY
4 The Pageant, St. Louis MO
8 The Fillmore, San Francisco CA
11 House of Blues, Los Angeles CA
14 House of Blues, New Orleans LA
15 The Roxy, Atlanta GA
16 House of Blues, Orlando FL
17 House of Blues, Myrtle Beach SC

08.20.00
More news on the band's upcoming October 24th release... the band has already selected 10 tracks that will definitely appear on the album, but they are asking fans to pick the last five. Go ahead to www.budweiser.com to have your voice heard! Fans are also being given the opportunity to pick an album cover... if you do ONE thing for me in your entire lifetime, please choose cover no. 2. :)

08.13.00
Finally, some news out of the Fischo camp. In a recent diary entry, Darius said that the upcoming b-sides collection, slated for an October 24 release, will be called Scattered, Smothered and Covered. Also, on August 21, fans will be given the opportunity to select some or all of the tracks to appear on the album via hootie.com.

08.05.00
One year ago from today, I met Darius, Mark, Dean and Soni for the first time, just outside of the Guvernment in Toronto, Canada. Not really significant to anyone but me, but I offer it as news anyway. :)

08.04.00
Word has it now that this fall's b-sides collection will be called Holiday Leftovers, not Besides as was originally thrown around. But until there's definite word from an official source, we'll have to wait and see. But does it really matter what it's called?

07.22.00
It's speculated that the band's b-sides collection is slated for an October 24th 2000 release.

07.02.00
Rumour has it that the band's b-sides collection will be called Besides. This past week, a studio version of Use Me was recorded for the the b-sides collection, and it will include hooting and hollering from the 50+ folks lucky enough to be invited in the studio.

06.18.00
Hootie & the Blowfish plan to release some sort of b-sides collection this October. In a recent diary entry over at hootie.com, guitarist Mark Bryan stated that there will be no new songs on the album, although they have recorded Tom Waites' I Hope That I Don't Fall In Love With You as a band in the studio, and also plan on taking another stab at Bill Withers' Use Me, this time in the studio with Edwin McCain. Hopefully, the lost studio tracks, like the band's takes on Elvis Costello's Peace, Love and Understanding and Toad the Wet Sprocket's Torn, have finally found a home. While on the subject of albums, it seems as though the release date of Darius Rucker's solo effort has been postponed to late Spring 2001.

06.15.00
Hootie & the Blowfish's contribution to the Me, Myself & Irene soundtrack, a remake of Orpheus' Can't Find The Time To Tell You, is now available for purchase at all major music retail outlets, including CDnow. The soundtrack also features music by Smash Mouth, The Foo Fighters, Better Than Ezra and The Offspring.